Rest in Peace, Samantha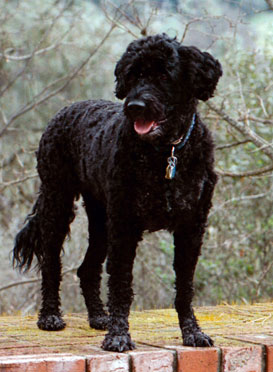 I am sad to report that Toraq's Samantha died on December 30, 2006, just nine days shy of her 16th birthday. After several weeks of continuous diarrhea and weight loss, four visits to the veterinarian, and several attempts to control the problem with diet, it was determined that she had developed lymphoma, and could no longer digest her food. Rather than let her starve, we went to the veterinarian, where she enjoyed one last piece of chicken before quietly going to her final sleep.
Sam was loving and well-loved. Among her people friends were Candy, who taught her to counter-surf and Tiffani, who taught her to party. She loved visiting Lynn at the post office and John at the feed store, especially as there were always cookies involved. She loved children, especially my nieces, Phyllis and Lois, and her young neighbors Cassidy and Dana. She had many other special people in her life, too many to name here. You know who you are.
Sam and I were blessed with caring veterinarians, most notably Janet who saved Sam's life, Kirstin and Irene who kept her healthy as she approached old age, and Nichole who helped her transition from this life without fear or pain. Our friends and neighbors in Corvallis, Sam and Suzanne, who lost their beloved Pongo a few months ago, went with us on the final vet visit to provide loving support. And already so many people have written or called to express their sympathy. Thank you all.
I especially want to thank Becky Morin, Samantha's breeder. Over the years, Becky has provided true "cradle to grave" support for Sam and me. I was on the phone with her twice during Sam's last few days, and appreciate her compassionate counsel. If you are looking for a Portuguese Water Dog of your own, I recommend starting with a call or email to Becky.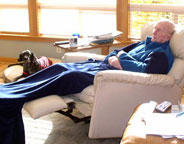 Sam's last years were quiet, especially considering her high-energy youth. She and my father spent many hours napping by the south windows in the living room. But even when she was asleep she made her presence known with soft snores. The house feels empty without her. At the age of 56, I am finally comprehending the meaning of the word "companion."
In the days since she left, I've come to realize that she was also here on earth as a teacher. You know the saying that some see the glass as half empty and others see it as half full? I'm often one of those half-empty sorts. Sam would swear the glass was 3/4 full, and have full confidence that it would be refilled as soon as she needed more. In recent years, when her arthritis caused loss of motor control and she fell down on the stairs or tripped on a crack, I would be ready to swoop on her with "poor Sam"s, but she would just pop back up, wag her tail, and ask, "Now what?" She was indomitable.
I will do my best to honor her life by viewing the world from her joyous perspective as often as possible. With diligence and good fortune, by the time I leave this earth I may be half as enlightened as she.
I miss her.
-- Donna, January 1, 2007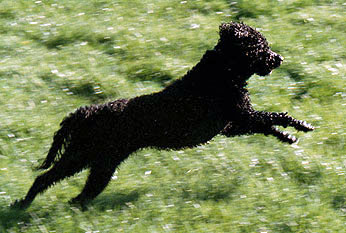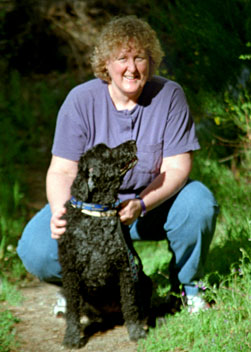 Hi, I'm Toraq's Samantha. You can call me Sam. In fact you can call me anything you want, just don't call me late for dinner. I know it's an old joke but it sure fits me -- I love to eat! Anything will do -- steak or chicken is nice of course, but I'm also partial to cantaloupe, watermelon, blackberries, carrots, zucchini or corn. Oh, and dog food is good too. The more the better!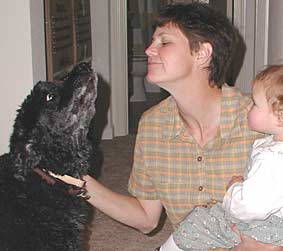 I'm a Portuguese Water Dog (PWD or "Portie" for short). Our breed was developed in Portugal hundreds of years ago to be fishermen's helpers. My ancestors went out on fishing boats, doing courier duty, rescuing swimmers, retrieving objects that fell in the water. They say we even herded fish but I find that one hard to believe.
I've added a couple of new pictures to the site. On the right you can see me bonding with my neighbors Sarah and Cassidy. Sarah knows just the right places to scratch. Cassidy and I get along great because I love kids. Babies especially since they're a great source of food; I love to sit next to their high chairs staring at the floor so I don't miss anything that drops. Sometimes I go up to Cassidy and give her a little tiny lick on her nose or cheek and she starts giggling. The only time we had problems was when she was learning to walk, because I accidentally knocked her over a few times. I really didn't mean to hurt her but it took her a while to forgive me for that.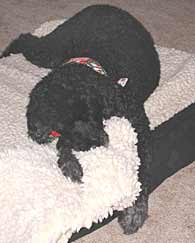 You can see I'm starting to get a bit more gray around the muzzle. I was born January 8, 1991, so in January 2004 I celebrated my 13th birthday. Donna (my human) tells me I'm supposed to be a grown-up dog now, but I still act like a puppy. Why not? I'm still very healthy, though I'm starting to get some arthritis in my hips and lower spine. The vet says it's not hip dysplasia, just plain old age. So for the past couple of years I've been taking glyco-flex every morning with breakfast, and Remadyl (anti-inflammatory) medicine every evening with dinner.
I still have lots of energy, and enjoy just about everything that life has to offer, especially running and eating and chasing squirrels and riding in the car and splashing in the river and getting covered with burrs and exploring and getting my tummy scratched. My favorite time is when Donna has friends over for dinner. I love socializing with everyone, and sometimes people give me treats when Donna isn't looking. She says I'm a real party animal!
For Christmas a year ago Donna bought me a new Orvis therapeutic bed for my my creaky hips. I like the cushion but I missed the fluffy fleece cover from my old bed, so she draped a fleece throw over the new bed and now it's my favorite spot. I like to suck on the fleece just like Cassidy sucks on her binky. I've put up a picture so that you can see how cozy I am!
I came to live with Donna in July, 1995, when I was 4-1/2 years old. My previous owners said I was "unmanageable", so they returned me to Becky, my breeder. I'm not sure why it took them four years to figure this out. I have to admit, though, we Porties are very active and energetic dogs, and can be pretty opinionated at times, so training us requires patience and firmness. At the same time we're sensitive so you can't jump on us too hard or we'll melt in front of you. So we're not a good choice for people who aren't experienced dog owners or who don't have the time or inclination to devote to training us. If you want an easy dog, get a Lab. (grin)
Luckily Donna and I were able to stick it out. She made some mistakes -- sometimes too easy on me, other times losing her temper or just being inconsistent. But we worked out our differences in the first year or so, and the last few years together have been great. (Except she never feeds me enough!) She gets kinda choked up when she realizes I won't live forever, but thankfully I've got a strong constitution and haven't even realized I'm slowing down yet.

My Photo Gallery
Sorry my photo gallery is so stale -- I have a bunch more pictures but I haven't been able to convince Donna to post them. I'll keep working on her.

Click on a little picture to see a bigger version. (None larger than 20K bytes.)
This is how I looked when I first came to live with Donna in summer of 1995. She said that with all this hair she'd never keep the burrs out, so she got some clippers and went to work.



After I got my haircut I got to go swim in the river! My favorite activity, next to eating of course. Here's how I look when I'm wet.



No swim is complete without a good shake.



Here I am with Donna's Dad -- proof that 40 pounds isn't too heavy to be a lap dog!


My Favorite Book

The New Complete Portuguese Water Dog
If you have a PWD or are thinking about getting one, this is the book to get. It includes breed characteristics, history, stories, plus info on care, puppies, showing, grooming and performance events. Oh yes, and did I mention the tons of great photos? Lots of my ancestors are pictured here! It's written by Kathryn Braund and illustrated by Verne Foster.
My favorite quotes are from Chapter 7 on "The Character of the Portuguese Water Dog," such as: "Your PWD will not allow you or anything around you to be alone. They are busy dogs and want you to be busy with them." How does she know me so well?


My Breeder
I was bred by Becky Morin, who owns Toraq Portuguese Water Dogs. She lives east of Sacramento, California. She has a web site at toraqpwd.org. You can see pictures of my mom "Maddie" and dad "Mickey" on her pictures pages. She's also on Instagram. Becky has been breeding PWDs for many years. She's a dedicated and conscientious breeder, a warm and helpful coach, and an all-around great resource. If you have questions about PWDs or are looking for a Portuguese Water Dog of your own, I recommend contacting her through her website.
My Pedigree
My pedigree is shown below, for those of you who are interested in such things.

         Farmion V de Gama (Farmion Azinhal x Renascenca do al Gharb)
      Ch. Farmion Geo UD
         Farmion Nazare (Farmion Azinhal x Trovoada de Alvalade)
   Ch. Roughrider Pescador de Toraq CD
         Keel Tonel (Febo do Al Gharb x Spindrift Keel)
      Ch. Camerell's Roughrider Seeley CDX
         Ch. Natale do Mar (Real do Mar x Alma do Mar)
TORAQ'S SAMANTHA
         Bonnydoon Obolo (Ch. Raio x Cherna Abilheiro)
      Ch. Oliverio Agua Linda
         Ch. Isabella do Mar (CB Baluarte de Alvalade x Rainha do Mar)
   Ch. Roughrider's Madeira de Toraq CD
         Ch. Farmion Geo UD (Farmion V de Gama x Farmion Nazare)
      Ch. Roughrider Diver's Doll CD
         Ch. Birchbrook Salema (Farmion V de Gama x Farmion Flagday)