Saturday, August 14, 1999
Salvage!
Saturday the 14th my friend Ray and I went to the Bay Area to see what we could salvage from some homes that are being demolished. You can get some idea of how it works from the Whole House Building Supply web page. The sales that weekend were an "estate" home in Atherton and a more modest home in Palo Alto.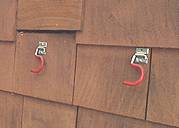 The sales were well-organized. All the items in the homes were numbered, and a handout listed asking prices for each item. Electricity and water had been turned off. Some items were easily removed, like bathroom mirrors and light fixtures. Others, like flooring or fireplace mantles, were going to call for a lot more work. We had come prepared with a Sawzall, but it wouldn't have done us any good -- one of the rules is that only licensed and insured contractors are allowed to use power tools for removing items. (They didn't complain about our using my Makita cordless drill for removing screws, however.)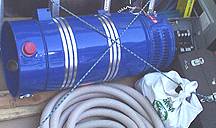 My first modest score was a dozen hooks for hanging brooms and other handled tools. $3.00 for the dozen, with a bicycle hook thrown in for good measure. We were off to a good start.
But the best find was a like-new Modern Day central vacuum unit at the Atherton home, complete with hoses, attachments, and replacement bags. We had already put the conduit for central vacuum into the slab, but the vacuum itself wasn't quite in the budget. For $70 we found this 2-year-old system. There will still be some cost for installation, but it should save at least $600 compared to buying it new.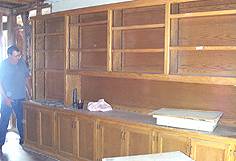 In Palo Alto, Ray fell in love with this built-in cabinet unit, left. But of course we couldn't figure out how to get it out of its house, and it wouldn't fit on the truck, and for that matter it wouldn't fit in Ray's garage either. Ah well, some pieces of furniture are meant to be adored from afar.
The Palo Alto house also provided me with an electrical sub-panel and a dozen breakers, all for $10. This wasn't as good a deal as the others, since my electrician tells me that the 15-amp breakers are of a design that doesn't work very well. But still there are several good 20-amp breakers in the panel, and it will work well in the garage or shed, saving me at least $10-20.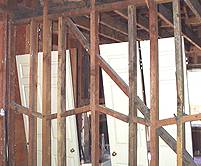 My friend Paul, with whom I've worked at five different companies over the past 16 years, lives a few blocks away from our Palo Alto salvage site. So he came to visit and help us analyze the workmanship of the old home. Part of the home was older than the rest. We could tell because it used true 2" x 4" framing lumber instead of the dimensional lumber used today. Some of the framing showed the creativity of the crew, as in this rolling "hill and valley" line, right.
After we were finished for the day, we had dinner in Atherton with Randy and Joan, two other long-time good friends. Between the booty and getting to see folks I hadn't seen in a while, it was definitely worth a trip to the Bay Area.
Each of the sales had around 6-12 other folks looking around at any given time. We were pleased with what we found, but several people told us that this was not a great weekend -- they felt that there are usually a lot more interesting and useable items available. It's a great way to recycle older homes and potentially save some money in the process.
Besides the Whole House Building Supply web page, you may find the following to be of interest:
-- Donna
---
Photos and page contents copyright ©1999-2020 by Donna McMaster. All rights reserved.