October 31, 2000
Almost Done!
It's been over a year since my last update to this site. My sincere apologies to anyone who has been checking the site for current information!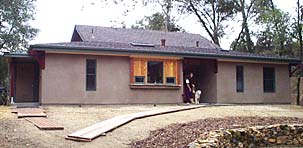 Why so long? To be honest, I got pretty burned out on the process for a while, and also needed to spend time on other things. I still have lots of other things that need doing, but I'm also ready to show off the interiors. And I'm pleased to announce that today is my 50th birthday, and a milestone like that calls for some action.
As with previous chapters, you can click on any photo to see a larger version.
First of all, we passed our final inspection on Friday, October 6. This means that the El Dorado County Building Department is finished with us, and that I should be expecting a tax re-assessment soon. It does not, however, mean that T.B. is finished. He is still completing the exterior trim, and has a few odds and ends to complete. The interior is finished, however, I've moved in, and I had a housewarming party October 21st to celebrate.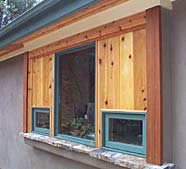 Someday I hope to go back and fill in the gaps between the last report and this one, but for now I'll stick with the current situation. You can see the front of the house above. The bump-out for the kitchen windows was designed by T.B. to add some character to the front. See the detail, right. It is finished with cedar to match the soffit coverings and entry (below, left), and vertical strips of redwood left and right. A stone ledge runs along the bottom.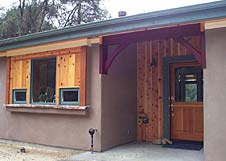 This entry photo (left) shows the cedar siding, fir door, and burgundy braces. Since T.B. is still working on exterior trim, I won't go into details on the rest of the trim in this installment, but suffice it to say that the trim colors are seafoam green and burgundy. The burgundy is used for beefy things like posts, rafter tails and braces. The green is used on windows, fascia boards and other "flat" parts. I'm not crazy about the way the cream turned out, and will probably repaint it burgundy at some point.
In the next chapter I'll show you some photos of the interior.-- Donna

---
Photos and page contents copyright ©1999-2020 by Donna McMaster. All rights reserved.